BC Legal Help Information Quality Mark™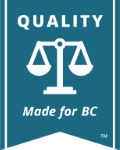 A number of organizations in British Columbia have collaborated to develop best practices for publishing legal help information.
These organizations include the BC legal help information Quality Mark™ to help the public access and recognize quality legal help information.
The Justice Education Society (JES) is the leading publisher of legal help information in BC. We fully support the Law Foundation of BC's Quality Mark™ initiative.
JES legal help information:
Is published for British Columbians and based on BC laws and justice processes
Is legally reviewed every year and shows the date of the last review
Provides details about the source/author of the content
Is written in plain language, ensuring positive access for a range of users
Is presented online with a clean design and intuitive navigation
Refers users to Ask JES and other free legal help services and resources
When you see the Legal Help Information Made for BC Quality Mark™, you can be confident that the information follows best practices publishing standards. Learn more about the Quality Mark™.